Warmer weather is approaching! We look forward to having our doors flung open when we're meeting, so that folks walking by can more easily see the life happening inside, whether on Saturday mornings, Tuesday afternoons or Wednesday evenings.
The big news is that Good Creations, our Tuesday afternoon Art program, received a grant from CNY Arts to support a visiting artist once each month. Three guest artists have visited so far. We look forward to future artists each month we meet (we take the month of August off). For more information about Good Creations, see the page on this website.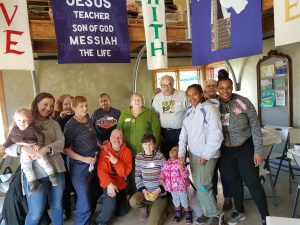 Upcoming events:
OCRRA's Earth Day Clean-up on April 27th.
Spring Gardening- cleaning up the landscape and planting a new raised bed vegetable garden
Prayer Board Installation
We look forward to building new relationships with partners on the Near Westside as we further settle into our new home and neighborhood.
Stay tuned!